Find the conflict.
Not every comic book story starts with conflict. Some creators look for places to start that are non-intuitive like the ending of a story. Check out your favorite comic. Open it to the first pages – what do you see? You will start to notice that almost all stories begin with conflict. Now sit down and take your own characters (or invent new ones) and imagine them in the same situation. What happens when you put these new characters in a similar conflict? What elements need to change to make sense?
I once went to a talk on writing with J. Michael Straczynski and he was asked about where to start. He said (I am paraphrasing) "picture a room with gunshots going off everywhere, your main character is in the center. What happens next? That's the beginning of your story." He was pointing out the general rule that if you don't know where to begin, start in conflict.
A great way to begin writing is to find a moment or scene that creates a problem for a set of characters. It can be really difficult at first to find this moment but do not be dismayed! The best artists have had a really difficult time finding the right problem to write their comics around.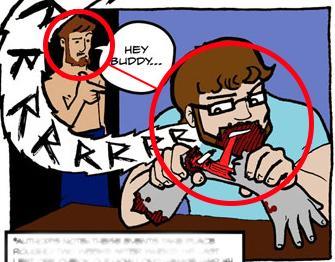 In my first mini for Hipster Picnic, "Roommate Problems," The whole idea stemmed from this initial idea I had to the left. Steve walks in on Hawk eating an arm and immediately makes a disapproving face. Basically all conflict boils down to peoples' desires being at odds with one another's. In this instance, Hawk's unexplained desire to eat human flesh conflicts with Steve's desire not to be eaten. The remainder of the comic builds on that misunderstanding.
In this example Steve walks down the hall when he encounters a confusing scene: Hawk is in bed while an old man reads him a bedtime story. The problem is introduced only when Steve's characteristic need to protect Hawk as a parental figure is introduced into the scene. Steve is thinking, suspiciously, "Who is this old man? What is he doing in Hawk's room?" Another take on this is that Steve's symbolic weight as the "best friend" to Hawk could now be read as being threatened by this new interloper. In this case it is definitely possible to have compounding conflicts that directly call Steve into injecting himself into the situation and challenging it.
Can't find the conflict? Word list!
When stumped there are a great many things you can do. One of the most beneficial is creating an associative word list. Try to think of your characters and their world. Start by writing any and all words that come to mind. This is similar to a brain map. At this stage it is very important that you be fast and loose rather than precise and accurate when writing. Don't judge yourself. If your story is a fantasy about elves in the mystical woods, write: "ELVES," "MYSTICAL," "SLUG," "BANANA," "PEANUT," "BUTTER," "ELVIS PRESLEY," "DEATH," etc. Try to write in a continuous stream for at least 10 minutes while filling your paper up with nonsense.
Take a break.
Limit yourself to a five minute break so that your brain doesn't lose elasticity and connection to the story that you are trying to bring into the world. Try to get away from the computer or the notepad. Use the five minutes to stretch, go for a walk, or meditate and clear your mind. Pressure and anxiety brought on by writers block does not help you write better and in fact can deter the creative process by tuckering you out too quickly with negative thoughts. Clear your mind.
Doodle.
Sit down with your word list and try to doodle the connections between different ideas. In the word list example above there were the words "Elves" and "Banana"- so draw a couple different situations with an elf and a banana. The key to this step, just like the word list, is to make sure you are drawing loosely and quickly. Sketch as many thumbnails (ideas or pictures of situations) as you can in the span of 10-20 minutes. This should look like chicken scratch. Try to time yourself… if you are being too careful with your drawings stop and stretch out your hand while moving like a painter would on a canvas- fast and loose. Spend only one minute per doodle so that you have 20 different doodles in the span of 20 minutes.
Write.
Pick one of the ideas you generated and start writing! Do whatever is necessary get your idea out. At this point you can time yourself but it is more important to write about your inspirations in detail. If you hit a block put this exercise aside and work on another project (you can always come back to your notes later).
Congratulations! You have the initial notes to a real story!
makingcomics.com