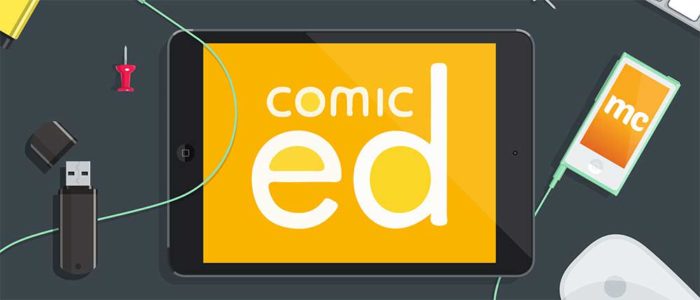 ---

---
ComicEd Newsletter
Resources For Educators
Link to this as a live document you can contribute to: (https://goo.gl/SFi6FX)
How To Make A Comic Book Online Course (ages 13+)
Comic Relief Project
I'd also suggest taking a look at the "Comic Relief Project" that Kay and I developed a year and a half ago. I actually stripped this project down and redeveloped it for the "How To Make A Comic Book" MOOC. The key differences you'll see in the two project flows are:
Comic Relief has a journalistic, humanities angle, to the curriculum (pages 1-28) and

it was written for teachers to read and use in a class (as opposed to the "How To Make A Comic MOOC" where all the material is written assuming an individual student is looking at it).
This document may be valuable to you for many reasons. On page 39 you'll see a budget outline – it isn't etched in stone, but will give you a starting point. Also, this document contains arguments for how the project will live up to Common Core state/national American standards. I'm sure that there is an equivalent wherever you live to this that is probably very different, but having our arguments for the project living up to literacy, art, and history standards will allow you to have a solid defense when asked how the project will connect to learning outcomes for the students.
Comic Relief Project (https://goo.gl/JQ0WLr)
Here are some other activities I've used with kids aged 9+
Graphic Novel Project
Tutorials
Found Elsewhere