There aren't as many ways as you would think to create and host a webcomic right now. Webcomics are updated frequently. They usually require a backlog or archive of content like blog posts, comics, and advertisements. This means that a webcomic website structure needs to be versatile. Tumblr.com entered into the blogging scene in 2006 with the hopes of capitalizing on the growing "microblogging" trend that was being popularized at the time.  The concept of microblogging is different from  traditional blogging in that microblogs are short snippets of information intended for quick consumption and sharing.
Similar to popular social networking sites, Tumblr lets you "like" or "heart" content to indicate that you simply enjoyed seeing the article, quote, video, link, animated .gif, or picture. Another similar feature to major social networking sites is that Tumblr allows you to share content through Gmail, Twitter, Facebook, or simply by copying the permalink. Similarly, Tumblr allows you to "re-blog" content automatically to your own personal tumblog (a Tumblr microblog).
None of this would be interesting or possible without the aspect of Tumblr that makes it incredibly different from other social media websites: through the "dashboard" section of your Tumblr you can follow other bloggers and digest their content. This is a similar function to almost all other social media sites like Facebook's newsfeed, Twitter's main page, or Instagram's news. The amazing part of Tumblr is that all of this is integrated and designed to create a personal platform for your art that the public can see.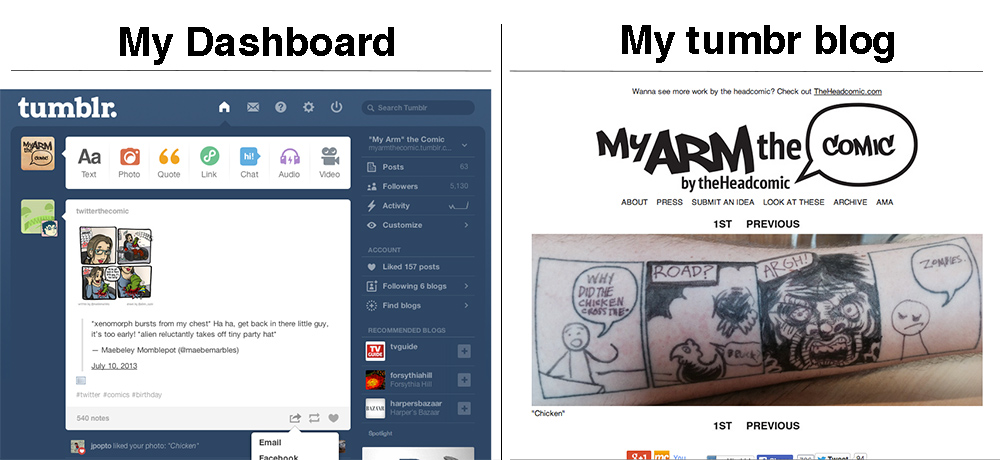 On "My Dashboard" I can see a whole host of things that are only visible to the creator of the tumblog. In fact all users own and operate their own customized dashboard visible to only them. The dashboard serves a similar function to Facebook's news feed. The public sees only my carefully designed tumblog. The tumblog can operate on a number of different levels such as a blog, portfolio, website, or webcomic.
In the previous example I have included a screenshot of I have included a screenshot of  My Arm: the Comic, one of the webcomics I create, and its adjacent dashboard labeled as "My Dashboard" in the image above. Notice that while the public sees a simplified presentation of the comic I have a dynamic back-end that allows me to see web statistics and user activity while also allowing me to post.
Tumblr packages these features through the use of themes. Some are free and some are paid, while the service of Tumblr is completely free to use. This makes it a dynamically different and powerful platform that hybridizes functions from major social networking sites with the ability to archive and log content like the major blog engines that exist on the market.
Why Use Tumblr To Make A Webcomic?
Tumblr.com is not the most dynamic or intricate website to use to publish your webcomic. When comparing the features of Comicpress (or Comic Easel) to Tumblr, Tumblr falls short in a number of ways. Tumblr has less community support and documentation for helping users have complete control over their blogs. It's true!
Due to the fact that the Comicpress theme for WordPress has been on the web for a great many years there have been a number of widgets and support documentation for creating webcomics on it. Combined with the open source nature of WordPress, the Comicpress theme is the obvious choice for making the most dynamic kind of site for your long-form comic book website (long-form being fifty or more pages of different artwork).
The downside of using the Comicpress theme for first time comic creators is the level of complexity – something Tumblr was built to address. A Comicpress site can take days, if not weeks, to understand how to build and polish. WordPress can be difficult to use and the learning curve is steep.
Unlike WordPress, with Tumblr users can get their webcomic up and running within a matter of minutes or hours. When I created hipstrpicnic.com I made the whole tumblog in under 50 minutes of site design time. Tumblr allows you to get your ideas out into the world with amazing speed.
And it doesn't stop there. With the ability to link your Tumblr to both your Facebook and Twitter accounts, every comic you post has the ability to be shared easily with the push of a button. Comicpress has this ability as well, but actually getting it to work can be a frustrating endeavor. Tumblr has this feature at its core.
So before making the decision to create your webcomic in Tumblr, ask yourself: are you using Tumblr as a means of immediately releasing updates for your comic? Or is it a project intended to be a giant graphic novel fives years in the making? If you chose the latter, then Tumblr may not be for you. But if you have a easily digestable idea like My Arm: the Comic or Twitter: The Comic that you want to get out and just see how it does, then Tumblr may be perfect for you.
Examples Of Great Tumblr Webcomics
Abominable Charles Christopher began on WordPress several years ago. Despite mainstream comic credits on titles such as Adventures of Superman and Teen Titans, Kerschl created Abominable Charles Christopher because he wanted to draw more animals and nature scenes than the aforementioned comics would allow. Kerschl has gained such success and accolades for his work on the comic that he has been able to work on it almost exclusively. Last year Kerschl abandoned the WordPress site structure to reap the benefits of the  Tumblr platform.
Probably one of my favorite comics right now is Twitter: The Comic where Mike Rosenthal (aka, @Vectorbelly) takes tweet suggestions and makes four-panel comics out of them. It's a clever idea, one which uses Tumblr and Twitter integration to incorporate user suggestions in a collaborative process – the perfect 21st century comic! This comic is ideal for the Tumblr platform and really wouldn't be possible anywhere else.
makingcomics.com