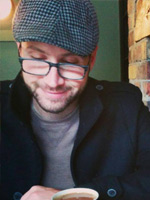 Head House Elf
High Tech High MOOCs – Design & Instruction
PatrickYurick.com – Portfolio
Hipster-Picnic.com – Weekly Webcomic
Contact: patrick@makingcomics.com
Patrick has been working as an art educator in southern California for the last six years. He has a degree in graphic design from the New England Institute of Art and a graduate degree in art education degree from Plymouth State University. Currently he is working on his second graduate degree in school leadership from the High Tech High Graduate School of Education.
His passions are for telling stories and designing ways for people to learn. Currently he is working on the webcomic series Hipster Picnic. He also has a viral comic book tattoo on his arm that appeared recently in Ripley's Believe It Or Not 2015 Edition. Patrick been on the ground floor of the MOOC movement for the past two years and is excited to bring comic-making art education into the 21st Century.
I'm still waiting for Kevin or Adam to give me clothes…
Read more Hipster Picnic by clicking on the link below:
makingcomics.com
Made by Patrick Yurick: